Post by mordekai on Aug 24, 2022 20:24:24 GMT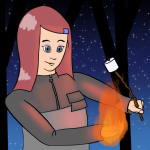 But they're not just space aliens. He seems to be telling us that humans imagined meeting space aliens, and the Ether created them – not just Lindsey and Bud, but their entire planet and its history, all the way back to the origins of life in that solar system, presumably far away. So perhaps there are planets out there where life developed independently from Earth, but the Merostomatozons' home planet isn't one of those – human dreams generated it with the help of the Ether, or so Aata implies.
"Make of that what you will," says Aata, so OK, I will. That means that powered by the imaginations of humans, the Ether can reach out across the stars and back in time, making radical, fundamental changes to the fabric of reality. This means that if there's anyone,
anyone
, left behind on Earth who so much as imagines or dreams about the planet where the Court went, the Ether will embroil the Court's new home in change and wreck the Omega Device's predictive ability again. Remember, Omega's predictive powers are so fragile that a little bit of interference from the Ether sparked the Court to create a star ocean and a plan, centuries in the making, to pull up stakes and move to another planet. The Court will want there to be
zero
 chance of any tendrils of Ether reaching out from Earth to touch their new digs. This is looking more and more like the Court will be mass mindwiping or outright destroying everybody it leaves behind. But Aata and Shell don't seem concerned – unless what they are is resigned, as if they know there's no escaping their fate, so they might as well just enjoy their last moments, during which it doesn't matter how much they reveal, because they'll all be either dead or oblivious soon anyway.
Now, I doubt that Tom's going to just have everybody die, end of comic. So we may see a scene soon where everybody sort of wakes up on Earth and wonders where they are and what they've been doing, having forgotten that the Court ever existed. Maybe I'm wrong, though.
Nah. There is going to be an epic final battle of Annie and friends vs the Court.