Post by saardvark on Aug 13, 2021 16:13:10 GMT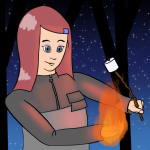 Just in terms of blackbody radiation, ideal objects hot enough for their thermal radiation peak to shift all the way from infrared to orange are probably in the 1500-2500 C range. But a wood fire burns around 600 C at its core and still looks red/orange, though a good bonfire can get above 1000 C. We see red, orange, and yellow in the flames at lower temperatures because the radiation peak doesn't have to shift into the visible in order for some of the radiation to still be in the visible – in a campfire most of it's still infrared, which of course we can't see. We only see the photons from the hotter parts, but there are lots more that are invisible. We can feel those, though.
There's also the fact that the roots are being generated by Loup's powers, so Annie's fire aura might just be disrupting the etheric energy that's making them. Evidence for this is the fact that we're not seeing any smoke or flames. When molten lava, hot enough to glow red, comes in contact with wood, there's plenty of smoke and flames, because of course not all the wood is in direct contact with the lava; some of it starts to burn before the lava even touches it (the heat can vaporize some of the volatile materials in the wood, too, and then ignite them, which can cause explosions). If this were just heat, bits of the roots not in direct contact with Annie's aura would still be getting charred or smoking (or even exploding) because of their proximity, and we don't see that. So I think we're in the realm of etheric physics, which the Court probably teaches classes on, but I haven't taken them, lazy me. With that in mind it's a bit difficult to really say how hot Annie's fire is right now.
Peak of the blackbody emission (using Wein's law) is
wavelength color. bb temperature
[nm]. [K]
580 yellow. 5000
610. orange. 4750
660. red. 4400
(I picked sort of a "middle" wavelength for each color, so these are a bit approximate.)
So I contend my color - to- temperature conversion was about right. I think the reason that fire or lava (~1500 K) appear orange-red is that a given temperature produces a blackbody spectrum with a wide range of wavelengths; most of the emission is in the IR and thus invisible to us - we can only see the red "hot end tail" of the light distribution.
Of course, that could mean that Annie is much cooler as well, and we only see the "red" end of her light spectrum. But if she were "only" 1500K, I don't think she'd vaporize wood so quickly.
Ultimately, though, I agree - there is lots of etheric physics at play here! The "wood" isn't acting like real wood would, in this situation. I missed E-Physics class as well, so I dunno what's going on....