Post by sebastian on May 26, 2021 6:59:31 GMT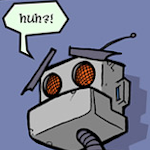 There are a lot of big capital M mysteries in Gunnerkrigg Court these days. I wanted to bring up a couple of the small ones that I haven't seen discussed so much. I decided to stick to ones having to do with Robots, just because I'm fascinated by the robots. Also, I wanted to resist making this yet another "big question" thread. Maybe bounding it a little will help? Anyway:

1. Who runs the robot jail? Probably the Seraphs but I don't think it's been stated explicitly? I mean someone must have given the doorman and the information booth guy their jobs, right? Not to mention the awesome guards!

2. Who decides who gets put in robot jail? We know the Seraphs had S-13 paper-clipped and I think we can safely assume that they were also responsible for getting his chip put in the chip repository, but there were a lot of chips there. I remember mention of robots trying to leave the court in the past and being punished thusly, but who actually controls all that? Is there a court? Do the robots police themselves or what? Based on what rules?

3. Is the robot king actually king of anything? Like, does he have a position of authority? I thought I remembered Tom saying he just welded a piece of yellow metal to his head and that was it, but then in the The Torn Sea he seemed to have a throne and be in charge, and Annie actually called him the Robot King when she told Renard to go to him for help saving their Angel. Follow-up: If he does have a position of authority, how did it get it? Appointed by the court? Voted in?
Those first three questions are partially based on the concept that the court does not seem to have a huge amount of control over the minds of the robots day-to-day. They got the override hack in there that let them do the shield thing, but when they want to change the behavior of an individual robot they pretty much lobotomize it with one of those scary green chips that Kat hates. They wouldn't have to do that if they could just give orders and be sure they would be followed, would they?

4. Is Robot a prophet? Like the kind with a gift of prophecy, or maybe visions? He apparently was talking about the Creator and other things that have since actually happened long before Kat came on the scene. Remember, he was disassembled and hidden sometime before Year 7, and the Seraphs said that was the reason for it. There have been other signs of prophecy, like the robots just knowing that the tic-tocs were created by the Creator long before Kat was born.
5. What are the newly embodied robots doing with their days? It's not hard to envision Arthur hanging out in the basement of Kat's lab, but it seems like they are getting processed and em-bodied at a pretty good clip. I would think that they would stand out, if seen on the street or in the halls. There really aren't that many people in the court, and while not all look baseline human, we never saw any with seams and such like Arthur until Arthur.
6. Are the robots alive? They certainly seem sentient and to have something very close to free will.
7. Are all of the newly embodied robots linked to Annie? Or, more likely, Kat? If Kat used the arrow to move Arthur's consciousness, and it was only possible because she modified it using Annie's link with Renard, does that imply that they are all her familiars now? Or at least linked in some way? Best guess is that the new contract given to her by Arbiter Saslamel works just like the Annie/Renard Familiar Contract. With Annie and Renard, it gave them a much closer relationship AND attached Renard's soul to Annie instead of the body of the stuffed animal, so I've always wondered what the equivalent operation is when applied to Kat and a golem. I mean, either it's the same as Annie has with Renard and they are all linked to her, or it's the equivalent with them all linked to RoboGoddessKat. You know how we always see Kat's Goddess form with a bunch of crazy wires and stuff linked to things off in the distance? I'm suggesting that the robots are what she's linked to.

Anyway, I know people are more concerned with Omega and Jones thinking Annie may be crazy and Loup and the forest and all the other big picture stuff, but thought there might be some interest in the poor neglected bots and their... religion?

first, thank for starting this thread. these questions keep bothering me, too and I always wanted to have a discussion about it.
to try to answer
1,2 my impression is that robots are mostly self managed. It was mentioned somewhere in the comic that they repair themselves and build new ones and that is why moved to simpler models than the one used by Diego. It is even possible that the Court itself have no real idea how the robots really works, the mod they used to regain contol from the robots on 'shield duty' seems to be very rough and unrefined. Heck, Unless I forgot some page they seems to have no idea why the robots started making the shield.
3 no idea, maybe Diego made it? maybe it was a simple coordinating figure that evolved with time? Maybe it is just because it is funny? Who knows.
4 Don't know, but at this point I can't exclude some time travel shenanigans. also related, tik tok birds and how they entered robot mithology.
5 no ideas
6 after 5000 years we are still not sure if humans have free wills, so I'll pass on this.
7 I don't think we have enough elements to work with (even if that never stopped a forum before). The only thing that I am sure about is that using that arrow will come back to bite Kat in the ass eventually. With all its flaws one thing I agree with the Court on is to not trust 'technology' that you don't fully understand and the truth is that Kat have no idea what the arrow actually does (or etter, she know 'what' it does, she don't know 'how' she using it as a Black Box essentially. And the foreshadowing is just too much for it to not be important. (but then agains it could just be Tom pulling a Siddell on us).