Post by mturtle7 on Aug 19, 2023 21:10:00 GMT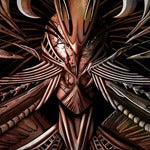 Putting it another way... Jones existence doesn't seem to be a natural occurrence. She was either intentionally put at the beginning of times, or "retconned" into existence by the humanity's power over ether via stories and myths.But in this comic there doesn't seem to be any kind of belief/ religion/ myth which would shape Jones into some kind of avatar of non-ether Earth or something. The case where we anticipate the apotheosis of a new myth/ god is Kat, because we're seeing the plot converging towards it. There's no indication of that around Jones.
Therefore she must have been sent to the past. Who could have the power to create a being like that and put it there? Who has the story shown, until now, to be able to design something that advanced AND to be able to meddle in time?
Hrrrrrrgh...ok, look. Most of your theory, I like and respect. You drew some really cool thematic parallels there, and it's not completely implausible that Kat will turn out to have been Jones' creator all along (it's *a little* out there, but hey, we have this Wild Speculation thread for a reason).

But this kind of attitude towards Jones - which I've seen a lot of fans take, over the years - really frustrates me, because it dismisses a part of GC's magic system that I've always seen as obviously canon: In the GC-Verse, werid sh*t just happens sometimes.
Take Paz, for example. As everyone knows, Paz can talk to animals. But why? How? It's not like she comes from a long line of Galician animal shamans, or is secretly the Chosen One of the Wilds, or anything like that. Nobody else in her family seems to be able to do it; there's no particular mythological basis for it that we've seen; it just kinda is, and we all nod along and say "well sure, if magic is real, then that seems plausible."
Smitty, Zimmy, and Gamma are also examples of this, I think. Again, there's no particular mythological basis for their powers that we know of, they're just people who were born with super weird, magical abilities Because Reasons - that old '
etherial tenet
' that the Court hates so much!
In the same way, I think there doesn't necessarily have to be a popular mythological link to Jones for her to have been created by the Ether. An immortal, indestructible woman with no feelings who's been around since the creation of the Earth, and has chosen to observe human history from the sidelines; why does that need any more explanation than a boy who was suddenly born with the power to manipulate probability so chaos is always minimized around him?

Again, I actually like your theory! I'm not saying that there can't be a cool explanation connecting Jones' existence intot he main plot of the comic, I'm just saying that there doesn't have to be. The boring explanation for Jones is that she's just one of the many, many, etheric things in the GC universe with no (mytho)logical basis for their existence.